June 28, 2017
IBSA representatives were happy to attend the PacPrint 2017 event. PacPrint is an event serving the evolving needs of the printing, sign and graphic communications industry. Forums were held throughout the event including Training for Transformation: a facilitated discussion on the current and future needs of print and sign training in Australia. The panel speakers included employers, government, education providers and apprentices. One of the speakers, David Galbraith, a Future Print Advisor, worked closely on the Future Print Innovative NWDF Project with IBSA.
The Future Print Innovative NWDF Project is about to conclude, with all training to be completed by 30 June 2017. The objective of the project was to develop the skills and capabilities of owners, workers and managers in print and related industries to respond to economic, demographic and technology changes facing industry. IBSA is pleased to report, that to date:
452 businesses undertook business reviews, from which
240 business went on to develop workforce development plans, and
475 learners went on to enrol in nationally recognised training.
Printing Industries Association of Australia (PIAA) and the Australian Manufacturing Workers' Union were the project partners. The Australian Government approved and funded the project which was administered by IBSA.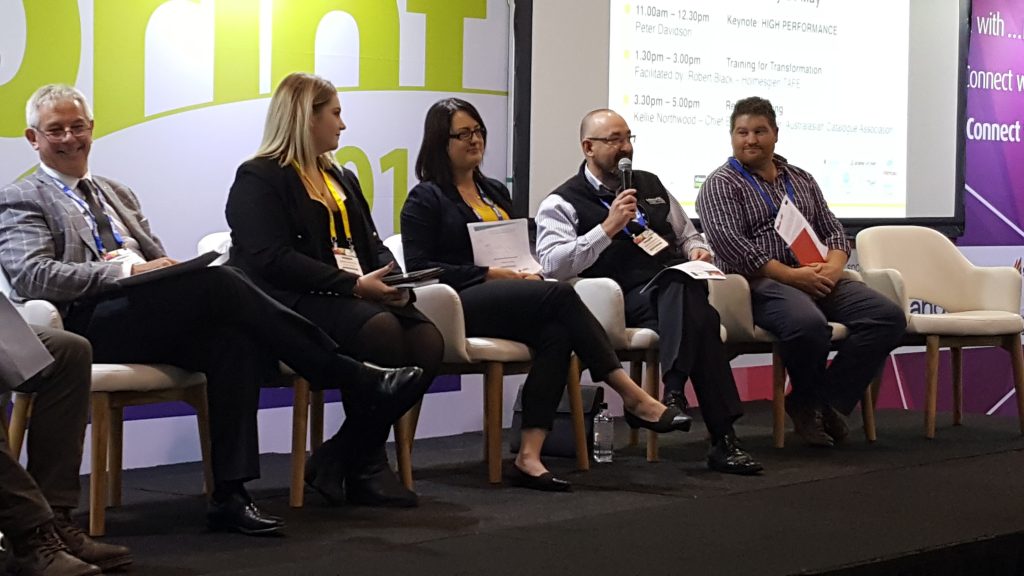 David Galbraith (Future Print Advisor) with microphone on at the Training for Transformation Forum at PacPrint 2017.
Categories
Receive industry updates