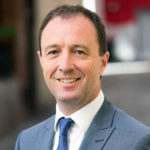 Tell us a little about yourself and your industry experience
I've been working for industry groups for over 15 years, with my current role being the WA State Manager for Australian Industry Group. Our members range from small businesses through to some of the largest in Australia.
Our membership is traditionally from the manufacturing sector. We have a strong focus on education and training and sit on many federal government committees and working groups to ensure we have the best training environment possible for business to operate in.
Why are you passionate about Vocational Education and Training?
I believe providing people with training that leads to an employment outcome is critical for both business and individuals.
Seeing companies grow and individuals start long-term careers is very rewarding and I'm passionate about being able to make those outcomes as simple as possible to achieve.
What's the next big thing in your industry?
The stand-out issues are the continued automation of tasks and the changing nature of the current roles in many industries, not just the one I'm in. They will have a major impact on how we need to train people and the jobs they will be doing.
What are the emerging skills needs in your industry?
There are a range of new processes and products that will require new skills. But equally we need to continue to encourage people to look to our industry as providing viable employment opportunities.
How can we make the training system better?
The more business plays a role in developing the system, the more our training system will improve. Business needs to be adaptable to a range of circumstances and our training system needs the same flexibility.