IBSA operations are overseen by an experienced, independent board of directors.
Chris Walton
Chris Walton is Acting Chair of the IBSA Board. He is the CEO of Professionals Australia, an organisation that represents over 24,000 engineers and technical professionals.
Prior to joining Professionals Australia in 2008, Chris was worked at the ACTU for 14 years and was ACTU Assistant Secretary from 2002-2008.
Chris has a Bachelor of Commerce degree, a Graduate Diploma in Labour Law and is a Graduate Member of the Australian Institute of Company Directors.
---
Rhyll Gardner
Rhyll is a director and portfolio executive with over thirty years of senior corporate experience.   She balances her non-executive director roles in finance, education, the arts and start-ups with her consulting and executive coaching practice.
Over a long career in banking and financial services at St George Bank, Westpac, Suncorp and BOQ, Rhyll filled executive and general management roles in treasury, risk and compliance, marketing, corporate banking, retail banking and group strategy. She has lead and managed teams of up to 1000 people. She played a key role in St George's considerable growth and achievements as a business bank and extended this expertise to encompass retail banking, increasing performance and profitability, customer satisfaction and employee engagement. Her roles in St George include Queensland Managing Director and General Manager of Group Strategy. She also held the role of Head of Group Strategy at BOQ, where she led the $440 million acquisition of Investec. Rhyll also has over 15 years of board experience as a director in the finance, education, social services and arts sectors.
Rhyll is currently a director of Community Sector Bank, Innovation & Business Skills Australia (IBSA) Ltd, and Foodbank (Qld). She is a past director of Social Investments Australia Ltd, Foresters Community Finance Ltd, Qld Symphony Orchestra, St. Margaret's School, Expressions Dance Company and the YWCA.
Rhyll's formal qualifications include a Bachelor of Commerce, Bachelor of Economics, Master of Applied Finance and an Executive MBA from INSEAD. She is a former finalist in the Telstra Business Women's Awards and the winner of the Finsia Award for excellence in financial services. She has been a participant in the AICD's Chair's Mentoring Program and is a certified Executive Coach.
---
Graeme Russell
Graeme Russell is the Chief Executive Officer of Media Super, the industry super fund for print, media, entertainment and arts professionals, providing superannuation and pension products and services to more than 90,000 members and 13,000 participating employers.
Graeme has senior management experience across a range of companies in the financial services, business services and media industries, as well as management and consulting experience in the education and training sector. Graeme was CEO of First Super from 2008 to March 2013 and previously Chief of Staff for the Victorian Minister for Public Transport and the Arts. He has extensive experience at Board level with major industry super funds and private companies.
Graeme has held senior community leadership roles, including as a Councillor and Mayor and has been involved in challenging change environments in his roles in private and public organisations. Graeme holds a Bachelor of Business (Accounting) and a Graduate Diploma of Applied Finance (Financial Planning) and is a Fellow of the Institute of Chartered Accountants, a Fellow of the Australian Institute of Superannuation Trustees, and a Fellow at the Australian Institute of Company Directors. Graeme is a member of IBSA's Finance, Audit and Risk Management Committee.
---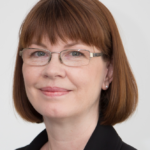 Susan Wilson
Susan Wilson has a recognised national profile in innovation from a public and private sector career across industry, government and research. She is Founder/Director of human-centred design and innovation consultancy, Bounce Partners.
Originally an R&D scientist, Susan has international commercial leadership experience in start-up to global multinational tech and manufacturing companies, government and NGOs. She has widely contributed to Australia's national innovation, science and economic development capability and capacity building through her governance, advisory and C-suite appointments.
Susan holds a Bachelor of Science, Master of Business Administration and professional governance qualifications. She also holds professional certifications in design thinking, culture and change leadership from world leading US innovation consultancy, IDEO.
---
Anne Younger
Anne Younger is the General Manager, Education and Training at the Australian Industry Group (Ai Group), responsible for policy development and major projects that highlight skills, education and training issues impacting businesses' competitiveness.
At Ai Group Anne previously worked as an economist, managed training services and, prior to that, managed a national team of business advisers under the Enterprise Connect program to improve productivity in small and medium-sized enterprises.  Anne was also the National Industry Career Specialist for Innovation and Business under the Career Advice Australia program.
Before joining Ai Group, Anne worked for more than 25 years in the VET sector in a range of roles involving project management, policy, planning, research and quality management. Anne holds a Master of Education in Educational Leadership and Management, a Bachelor of Economics and a Certificate IV in Assessment and Workplace Training.