April 27, 2017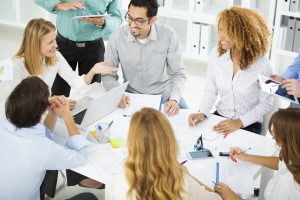 IBSA is the Skills Service Organisation (SSO) for the manufacturing industry and we work with many sectors in this industry.
Under the direction of our allocated Industry Reference Committees (IRCs), we work with employers to identify the key skills that their employees need and then develop the training packages to support the training of future employees.
IRCs comprise experienced people who have knowledge and skills from each industry sector. As a committee, they are responsible for driving the development of training packages that meet the current needs of industry. As an SSO, we are responsible for creating and updating these packages.
Every training package is designed against the skills and knowledge required for a worker to perform effectively in the workplace. Each package includes: units of competency, qualifications, and assessment guidelines. Training packages are not training manuals; they are developed to specify what skills and knowledge a learner needs. This means that training can be customised to fit any learner's situation.
The following infographic shows which industry sectors and IRCs we work with and the training packages we support.

To find out more about our IRCs click here.
Training Package Development Projects
IBSA Manufacturing has a number of training package development projects underway. For more information on these projects click here.
Our industry pages provide an overview of the industry as well as list of related qualifications.